I am in awe of this delicious concoction. It all started when Mary at Giving Up on Perfect posted this
Chocolate Chip Pumpkin Bread
last Monday. I had the ingredients on hand and hadn't had any Chocolate Chip Pumpkin Bread this season, which is a travesty. It makes 3 loaves, which is a lot for a single gal. I decided to make 2 full loaves and then use the rest for a mini-loaf pan that I have. Whatever I didn't eat for breakfast would end up in the freezer.
These mini-loaves became my inspiration. I was on the phone with my parents and distracted so didn't pull them out as soon as I should have. They were still good but a little drier than I'd like. What can you do with dry bread? Why, make bread pudding of course!
Now, I've never made bread pudding before and I'm not sure I've even eaten it before. However, I know quite a few bread pudding fans. When I saw Bobby Flay
throwdown
with the Pioneer Woman last month and create his own
Pumpkin Bread Pudding
, I knew this dessert would be in my future.
I started scouring recipes. I finally came up with a
good backbone
and then found a sauce that seemed worthy. Here's the result!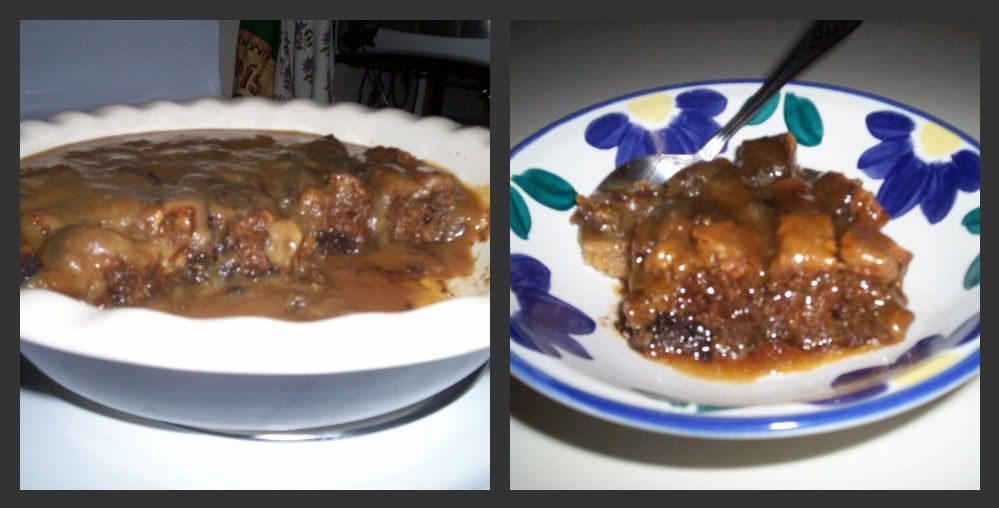 Mary's Chocolate Chip Pumpkin Bread
4 eggs
3 cups sugar
1 15-ounce can canned pumpkin
1 cup vegetable oil
2/3 cup water
3½ cups all-purpose flour
2 tablespoons cinnamon
1 tablespoon nutmeg
2 teaspoons baking soda
1½ teaspoons salt
2 cups chocolate chips (I used 1 c. dark chocolate, 1 c. butterscotch, which I'd highly recommend)
Preheat oven to 350 degrees.
Combine eggs, sugar, pumpkin, oil and water in a large mixing bowl. In a separate bowl, combine flour, cinnamon, nutmeg, baking soda and salt. Mix dry and wet ingredients in the large bowl, then fold in chocolate chips. Pour into three greased loaf pans.
Bake for one hour – or until a toothpick stuck into the center comes out clean. Check sooner- around 45 minutes if using a mini-loaf pan.
Pumpkin Bread Pudding
2 eggs
1 1/2 c. half-and-half (you can use milk in a pinch but it'll change the consistency)
1/4 c. sugar
1 t. vanilla
4 c. cubed pumpkin bread (let it sit out for a day before using it so it'll be extra dry- trust me!)
Preheat oven to 325 degrees. Spray a 9-inch pie pan with baking spray. Lay the pumpkin bread cubes in the pie pan so that it's covered, with little space in between the cubes.
Whisk together eggs, half-and-half, sugar, and vanilla in a bowl. Then pour this over the pumpkin bread cubes. Let it soak in for at least half an hour. If you plan ahead, you could cover the pie pan with foil and stick in the fridge overnight but I went the 30 min. route and it worked just fine.
Bake for 45 minutes or until the pudding is set. An inserted knife should come out clean. The type of pie pan used can affect the baking time so it could take more or less time. I would recommend checking it around 35 minutes and then every 10 minutes until it's done.
When the bread pudding is about ready to come out of the oven, you can start making the caramel sauce. This is one dessert you want to serve warm and fresh from the oven!
Caramel Sauce
1 c. packed light brown sugar
1/2 c. butter
2 T light corn syrup
Note: this makes a lot of sauce, which I prefer, but you could halve the recipe and still be OK.
In a 2 quart saucepan, bring brown sugar, butter, and corn syrup to a boil. Stir until smooth. Boil for 1 minute. Then pour over the cooked bread pudding. Or you can serve the sauce on the side and everyone can take the amount they'd like.
The dark chocolate and butterscotch chips in the pumpkin bread melted in the oven adding to the deliciousness. The nutmeg, cinnamon, and pumpkin add a nice depth of flavor. But the sauce. Oh, the sauce. It sends this dessert over the moon and back!